We visited Shenandoah Cavern with Comfort and Joy twice this month and they absolutely loved it. Comfort is our budding photographer so I've included some of her pictures here.
Some things of note:
1) There are no stairs to worry about and strollers are welcome.
2) Kids under 6 are free.
3) It's very cool in the cavern so this is excellent as a summertime destination. In fact, it's a constant 56 degrees so bring a jacket and maybe long pants.
4) They were fine with the kidlets consuming snacks and drinks along the way and the older kids in our group all had their water bottles. Trash cans are provided along the 1-mile walk through the cavern.
The Magic Cave has some fantastically beautiful formations.
Bacon
Capitol Dome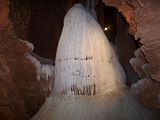 Fried Eggs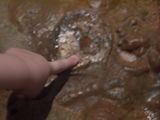 Diamond Cascade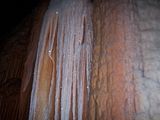 Pictures of Mirror Lake, The Archibishop and Popcorn didn't turn out well. I think Comfort forgot the flash. But you get the idea. It's an amazing cave and at just a mile of walking it's doable for small legs.
Yep, there's a lot of food and Joy really got into that. The bacon was her favorite. She pointed it out everywhere!!
Interested in visiting with your family? Kids 6-14 are 1/2 Price [Kids under 6 are free] if you mention the Humdinger Deal. Print the ad and take it with you. What could be a better deal than that!!